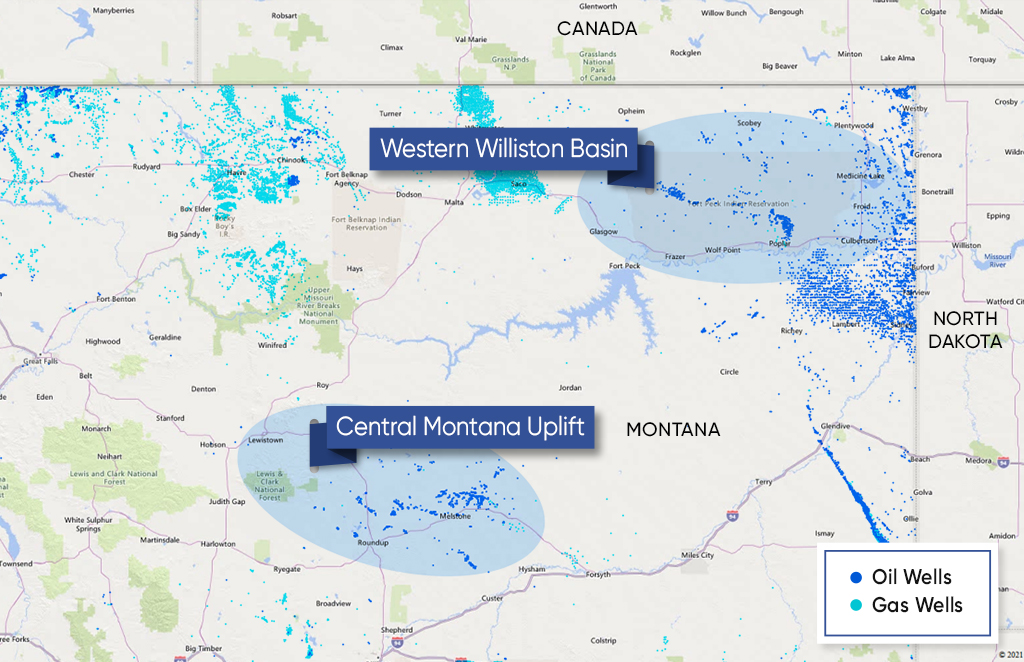 With over 37,900 net acres currently under lease, Laredo Oil and its operating subsidiaries have two primary areas targeted for drilling and re-development.
Both assets feature long-lived production platforms that were conventionally developed with over 60 vertical wells in place, ideally suited for our proprietary enhanced extraction methods.
These regions have historically strong and stable production and are prime for EOR and conventional development.
Western Williston Basin – Mississippian and Devonian Targets
The Western Williston Basin area focuses on identified prolific intervals found in the Mississippian and Devonian Systems.
With production dating back to the 1950's, this region has provided continuous production and development since discovery to the present.
Laredo's specific operational area includes numerous proven, but undeveloped, infill locations within the existing fields and leases, as well as multiple step-out locations for additional development.
With shallow well depths ranging from 4,000 to 7,000 feet, the use of conventional well applications will require less drilling/completion capital, and risk than unconventional techniques.
Central Montana Uplift – Cretaceous Targets
The Central Montana Uplift area focuses on under-utilized intervals from multiple Cretaceous zones.
Production in this area dates back from 1919 and continues through today, utilizing secondary recovery methods.
This particular area offers the ideal characteristics for implementation of our proprietary Underground Gravity Drainage™ (UGD) and other enhanced recovery methods. With our systems in place, we anticipate substantial and ongoing recovery for years into the future.